The University of Waterloo's 3D Modelling & Testing Lab
An Innovative Display Solution for the University of Waterloo's Faculty of Engineering
The University of Waterloo's Faculty of Engineering is one of the most revered in the world. It has repeatedly been ranked among the top three university engineering programs in Canada in Maclean's magazine's annual report, sharing the top spot on the most recent list with the University of Toronto. It has also been named one of the top 50 worldwide by the Academic Ranking of World Universities (ARWU).
Of course, student progress and prosperity are directly correlated to the resources and facilities on ofer, and Waterloo Engineering strives for excellence in both regards – one of the many reasons it has become one of the largest engineering schools in the country.
In late 2019, the school circulated a tender to design and integrate an advanced audio-visual system for a new 3D modeling and testing lab dubbed the Visualization Chamber. After securing the project, the team at Aligned Vision Group (AV Group) collaborated with administrators and instructors to deliver an even more sophisticated solution than was initially envisioned – one that would better serve the department's students and faculty now and into the future.
"I believe there were approximately 10 bidders for this project," begins John Coniglio, one of AV Group's founding partners and the account manager on this particular job. "The bidders were invited to come in and see the room – this was pre-COVID-19 – so when we started to strategize as a team afterwards, our goal was to think about how we could do things differently to make our bid stand out. The client had a mandate for what they wanted, but it was a design/build opportunity more than it was just submitting a straight bid to spec."
His team had plenty of experience to draw on during those initial deliberations. AV Group was founded in late 2019 by Co-
niglio and three other esteemed veterans of Canada's audio-visual integration industry: Andrew Foord, Paul Forbes, and Guy Wallace; in fact, Foord and Wallace were also key collaborators on the UW project, with the former serving as the lead system designer and latter overseeing progress as the project manager.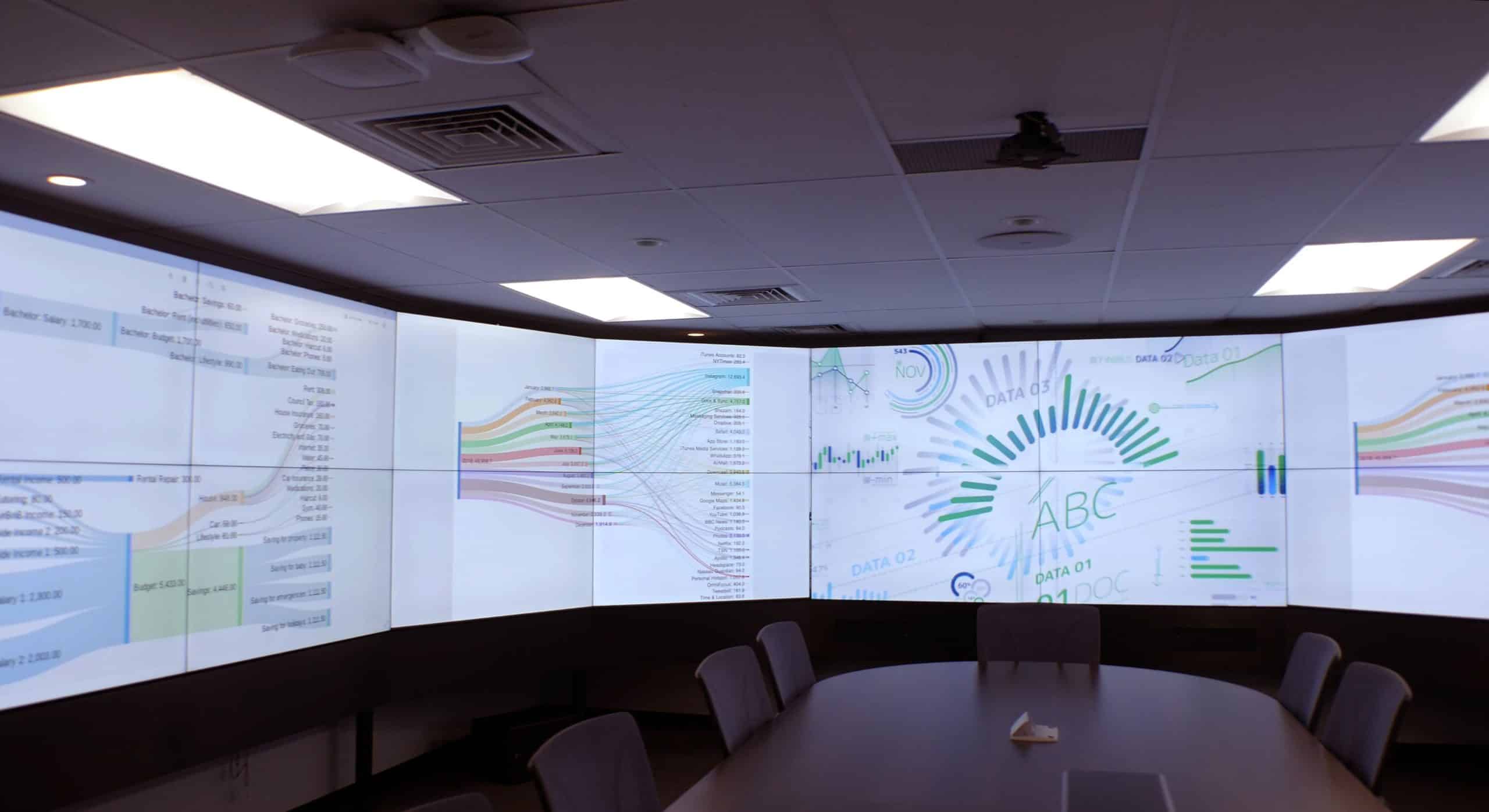 "Initially, they wanted a wide desktop display at the front of the room, and then some side displays to fank it for people on either side of the table to be able to see. Then, they wanted to drive that from a rackmounted server with multiple video outs for different presentation sources," Wallace explains. "After some discussion internally, we decided that although what they really wanted was a direct-view LED wall that was beyond the project budget, they would be best served by a curved wall made up of 20 ultra-thin bezel LCD displays. A custom metal structure could easily be designed to create the wrap that would encompass the room with displays."
"We had a fantastic collaboration and experience with the team at Aligned Vision Group throughout the specification and installation process for a large-format video display system in our new Visualization Chamber." – Professor Duane Cronin
Coniglio stresses the team's focus on ensuring their proposal stood out with a carefully considered and innovative solution that checked every single one of their client's boxes and then some while staying within the allotted budget.
"That's how we like to work, and in this case, that meant taking all of their concepts and devising this wrap-around environment that would give the client something very useful and engaging," he shares. "The other side of that is we wanted to clearly communicate to the client how this solution would work and elevate their experience with some detailed 3D CAD drawings."
The system they proposed – and that ultimately came to occupy the lab – is based on LG's 55SVM5F-H 55-in. video walls with an ultra-thin 0.44 mm even bezel. "We've got a lot experience in installations with that product and have always had good success with it, so we knew LG was the right partner and they were quite happy to collaborate," says Wallace. "With that 0.44 mm bezel cap, you get a sharp and virtually seamless display that was optimal for this application."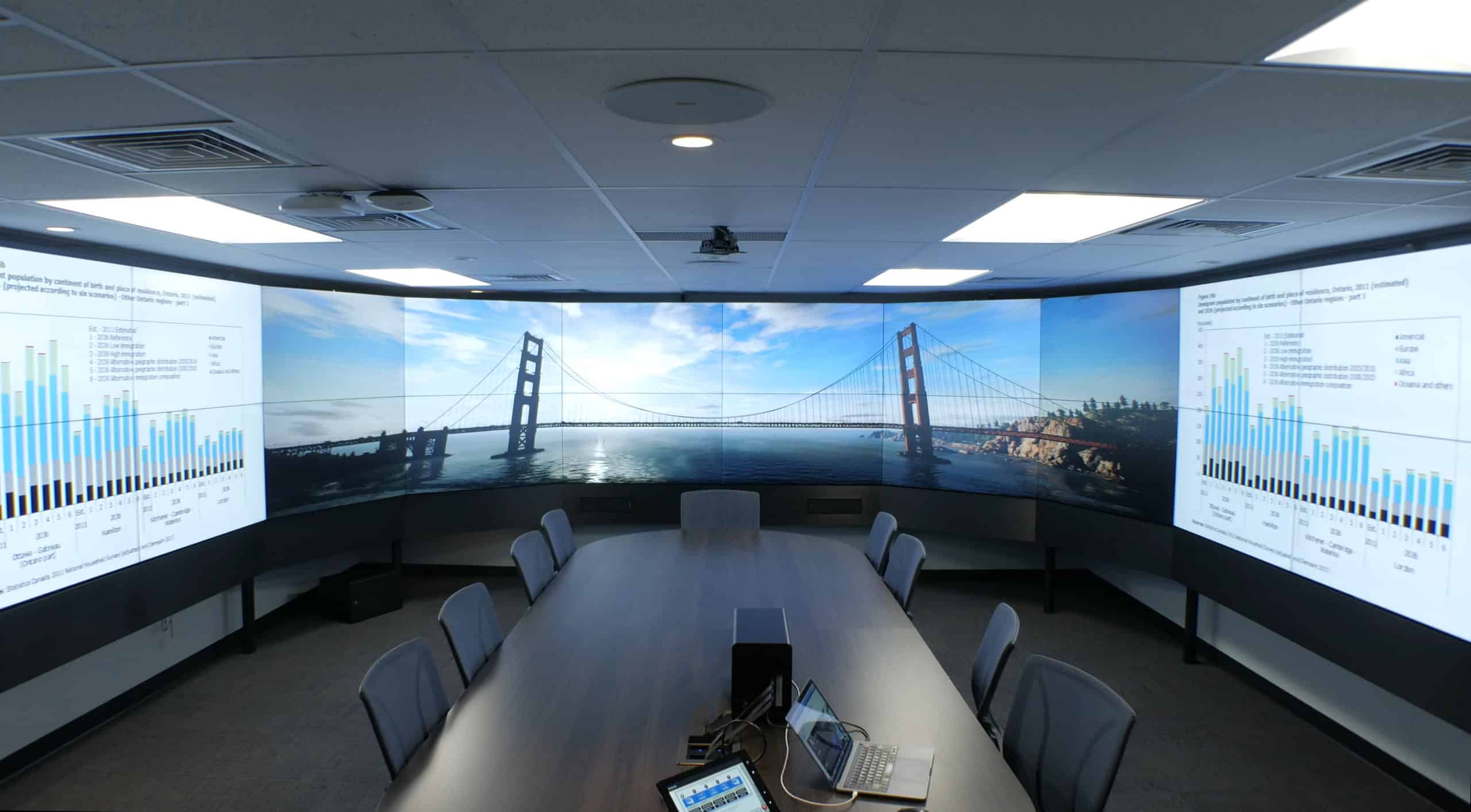 The panels are mounted two high and 10 across, ultimately creating fve 2 x 2 display elements that together form a single 12.1-m-long, 1.36-m-high display surface with a 180-degree curve thanks to AV Group's custom-designed and manufactured mounting solution.
That design is based on 80/20 aluminum extrusion product – "essentially a large Erector set," Wallace simplifies. "But there was still a bit of engineering to cus tomize it and get exactly what we needed. It was basically a combination of of-the-shelf connecting hardware and then some custom brackets to give us the required adjustable angles."
Coniglio elaborates, noting that they had the entire structure 3D-modeled so that it could accommodate some adjustment to the various angles without compromising the corners of the individual screens.
As for how content makes its way onto the display, Coniglio starts with an overview of the original mandate from Waterloo Engineering administrators. "The initial concept they had would've been three displays from three diferent sources at the front, and then two screens at the back of the room that would mirror any one of those," he explains.
AV Group's proposed 180-degree solution offered a more immersive educational and collaborative experience, which was obviously well received by the faculty as it enabled them to create a more expansive and fluid work environment for users.
A rackmount server feeds the multi-zoned display surface, loaded with a dual graphics card to maximize use of the entire canvas. To accommodate various presenters, an external graphics processing unit (eGPU) that can connect to a laptop via a single Thunderbolt connection was provided. It sits on the conference table and allows the screen of a connected computer to extend across three of the five display elements.
Much of the control, distribution, and processing is anchored in the Crestron environment, in large part because it makes for simple and straightforward evolution and expansion going forward. Wallace notes that AV Group handled all of the programming internally, and that the client was provided with a mockup of the GUI well in advance, then given a workshop tutorial on how it would operate before that particular element was approved.
"Essentially, we have five 4K regions spanning the display, so we can output five 4K signals at this point," Wallace shares. "The next step would be, without having to replace any hardware, they can add a video processor to bring more creativity and capability with multiple sources and windowing. Right now, they don't have the ability to span a single output source across the entire display, but operating in the standard mode connected to the server, they have a desktop [PC] and can mouse all the way across; it's only when you get into different sources that you get those limitations, but if they want to progress down that path, the infrastructure will support it without having to change much about the system topology."
Complementing the more immersive display solution is an audio system that was similarly augmented from the initial client brief.
"We went with a more powerful system than we normally would have designed," Coniglio offers. "Since we're giving them a display that creates this immersive environment, we figured we could deliver a better audio experience on the same level as the display."
That system is built on Meyer Sound's UP-4slim ultra-compact installation loudspeakers as the mains with a complementing MM-10XP subwoofer. Coniglio notes the current set-up can easily be expanded to a 5.1 configuration if desired down the road.
"I just love the sound of that product, and for an ultra-compact design, it gives the best possible audio performance within that room while being very unobtrusive. For any type of content playback, the audio experience is going to be really, really nice," Coniglio asserts. "If they're doing anything in a presentation mode where a microphone is involved or if they're trying to amplify anything within the room, the speakers are great at rejecting feedback; with no effort, I can do a presentation with a mic pretty much right next to the speaker with no issues, so that's a great feature for when they get into those kinds of uses."
From a technical design and delivery perspective, everything went as planned over the course of the project; however, the emergence of the COVID-19 pandemic in early 2020 did impact the actual integration process. Coniglio acknowledges that the project served as a learning opportunity and informed their approach to working efficiently but safely on later projects throughout the year.
"We had to work quite closely with the university to put together our COVID policies so that they'd match their policies for work on campus. It's uncharted territory for all of us, and we were actually the first trade to do any work in that particular facility during the pandemic," Coniglio notes.
Speaking more generally about AV Group's approach to one of their early flagship projects as a new firm, he adds: "We have a lot of years of experience that we're carrying forward, and are always taking what we've learned in the past and applying that to our current projects, and then figuring out how to make everything better for the client – always using best practices, taking what we know works, and then putting that into a new, custom solution for every single client we take on."
Put simply, he says: "We want every new project to be the best we've ever done."
While their respective fingerprints can be found on some of the most innovative, elaborate, and complex audio-visual systems already operating across Canada, the founders behind Aligned Vision Group are proud to have this high-profile project at an esteemed institution like Waterloo Engineering completed under their new banner.
"One of the things I've caught myself saying around the office is, 'How do we go from good to great?' It's an internal saying that's kind of been sticking, and it's a good way to describe this project and our overall approach to our work," says Coniglio. "This was a smaller project for us, but it was done with that guiding principle of delivering something great, every time."